Budapest by Night or Night Stroll
Visit the illuminated beating heart of Europe and spend a memorable evening at a traditional restaurant or in any ruin pub of Budapest. Enjoy the folk dance show, gipsy music and tasty dishes or choose to enjoy the dizzy nightlife of the city… It is really up to you as We can make the tour as per your taste.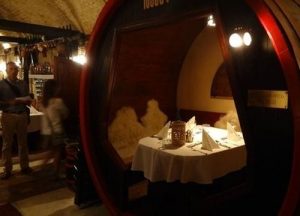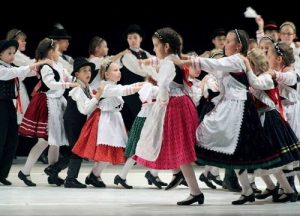 1. Traditional folklore show with dinner
Visit the illuminated Pearl of the Danube and spend an memorable evening in a traditional Hungarian restaurant. You will experience the city of Budapest at night in a way you have never seen it before.
We offer you a traditional Hungarian menu accompanied with wine and while you are enjoying the Hungarian taste during the dinner you can enjoy a colourful Folklore Show Programme with dancers – dressed in folk costumes – and Gipsy Music. After dinner We finish the tour on top of the Gellért Hill (Citadel), where you will enjoy the most spectacular viewpoint of Budapest at night. The Tour ends in the city-centre or back in the hotel as per your request.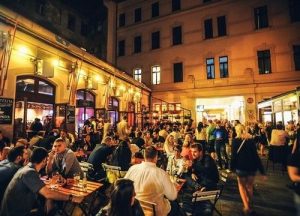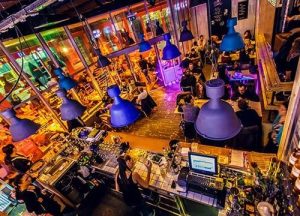 2. Night stroll in Ruin bars' district
"The beginning of the 21st century was an exciting turning point in the nightlife of Budapest: in the central area of the city new places were opened one after another in tenement houses and factory buildings doomed to destruction. These were equipped with rejected furniture of old community centres, cinemas, and grandmothers´ flats, bringing a retro feeling into these places. They were soon called ruinpubs and became popular very fast among the youth of Budapest – ruinpub is the exact translation of the Hungarian name"
Meet your local guide in the lobby of your hotel then let the night amaze you in Budapest.
We start the tour on top of the Gellért Hill (Citadel), where you will enjoy the most spectacular viewpoint of Budapest at night.
After visiting the viewpoint of Citadella We start our night stroll in Pest side. During the tour We visit three different Ruin Pubs in the Jewish district of Budapest where You can try the local drinks such as Palinka, which is the Hungarian brandy made of different fruits with 30-50% alcohol content.
Every ruin bar has a unique atmosphere and different style and during the tour We will help you to experience this uniqueness by meeting locals, trying local drinks and street food etc.
We finish the tour in one of the clubs of Budapest where We let you enjoy the rhythm and bass of Budapest.
"You won't believe this BAR in BUDAPEST until you watch this video!! It's called Szimpla Kert — it's one of the many "ruin bars" in Budapest, and it's my personal favorite bar in the world… This is my 3rd time back in Budapest, and every time I am here, I've spent at least 2 nights at Szimpla. Ruin Bars are basically giant underground bars (caves), with tons of random rooms, that were built inside of destroyed warehouses from WWII. It's too hard to describe them further in words… Just watch this video. HAVE YOU EVER BEEN TO BUDAPEST? Nightlife aside, this city is truly magical."
Drew Binsky has visited a Ruin Bar at Budapest